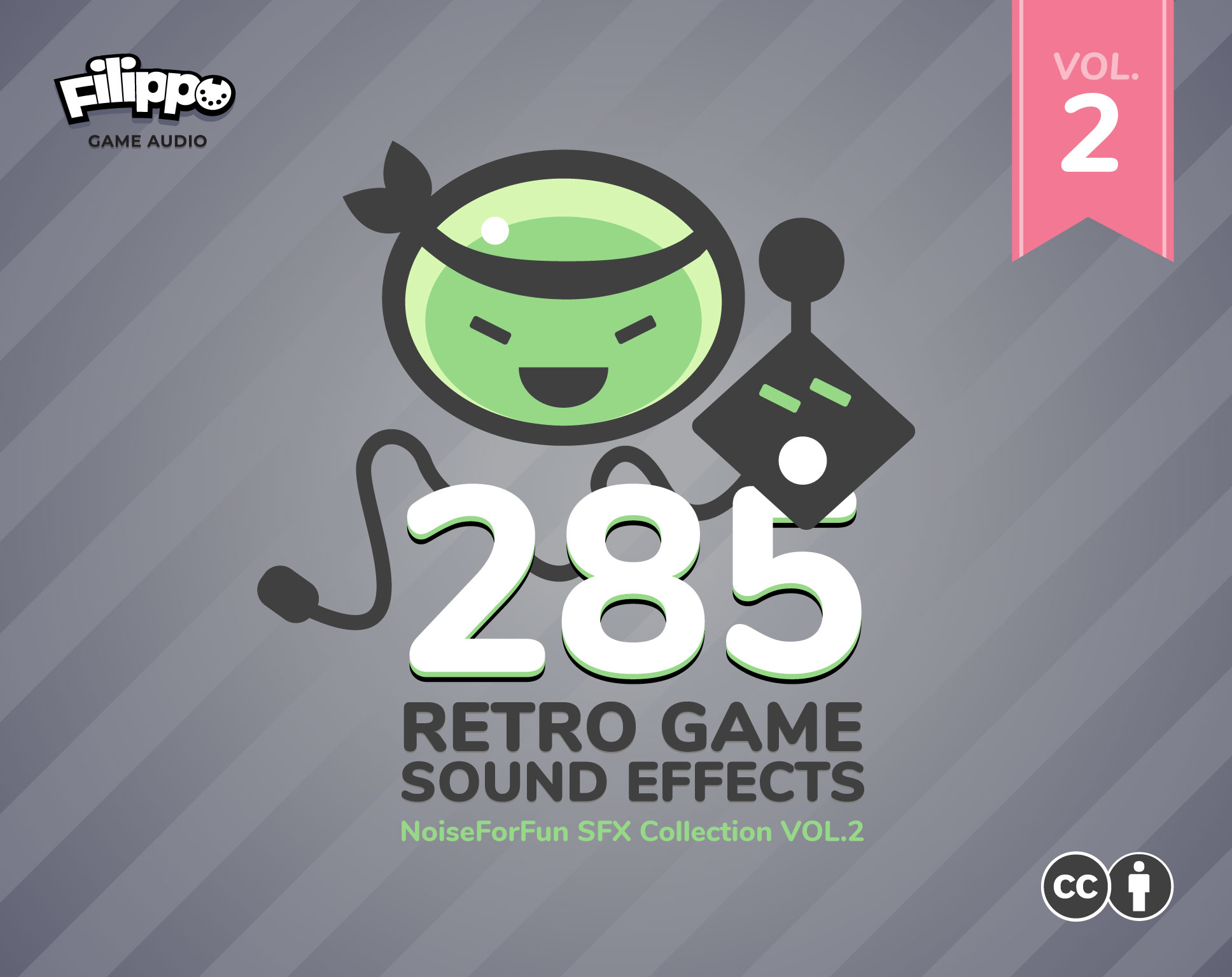 285 Game Sound Effects Vol.2
A downloadable Audio Resource
Get this Audio Resource and 2 more for $15.00 USD
View bundle
Royalty Free Sound Effects Collection for Games and more!

Started in 2012 as a free sound effects website, NoiseForFun has become a SFX Collection containing all the exclusive sound effects appeared on the website plus some new additions.
This collection contains tons of originally designed and uncommon sound effects, which are mostly produced with synthesizers and digital samplers and thus ideal to be used in fun Apps, software user interfaces and retro video games of any genre: platformer, casual, puzzle, arcade, shooter and so on.
Make sure to get the Volume 01 as well, in order to have the entire collection of sounds!
Quick Questions & Answers
1) What does this bundle include?
This SFX bundle contains a total of 285 audio files, divided into ten categories:
Action and Game
Creatures and Animals
Elements and Nature
Fantasy and Magic
Interfaces and Media
Musical and Jingles
Objects and Tools
Vehicles and Racing
Voice and Speech
Weapons and Battle
All the audio files come in high quality WAVE / 44.1 Khz / 16 Bit format.
2) Will there be updates?
Unfortunately not, the production of these sound effects has officially reached its end in 2014. Currently the content is locked down and there are no plans in creating other sound effects bundles.
If you didn't already, you might want to check the Vol.1 of NoiseForFun SFX Collection which has been released in the same marketplace as this one.
3) Can I use these sound effects for anything I want?
Yes, all the audio files are released under the Creative Commons Attribution 4.0 license, which only requires you to give appropriate credit (eg. Sound Effects by Filippo Vicarelli), please read and understand all the CC-BY-4.0 license terms before using this music.
4) What I cannot do with these sound effects?
You can't sell the sounds themselves, in a bundle, or as single downloads in their original audio file format or other formats (eg. MP3), you can't sell or sub-license this SFX bundle to others. You are not allowed to create derived works (eg. make new sound effects by layering other sounds over them) and treat the final product as yours. You can't use the sounds in videos (eg. on YouTube) made to simply play these sound effects.
5) Can I hire you to make custom sound effects for my video game?
Yes! Just visit my website www.filippovicarelli.com and drop me a message. Don't forget to provide me basic details such as your game genre, platform, distribution, art style, etc. and to tell me something about the sound you're looking for, such as style, how many sound effects you need, etc.
Purchase
Get this Audio Resource and 2 more for $15.00 USD
View bundle
In order to download this Audio Resource you must purchase it at or above the minimum price of $5 USD. You will get access to the following files:
NoiseForFun SFX Collection Vol.2
36 MB